Are there any benefits of being a digital nomad?
Ever dreaming of working wherever in the world you want?
As a digital nomad the last 3 years, I'm loving the benefits of location independence! Sure, it's not always easy.
But the pros of nomadic living far outweigh any challenges for me.
From flexible schedules to lower costs of living, the digital nomad lifestyle opens up amazing opportunities.
You get to immerse yourself in new cultures and have adventures most only dream of.
There are practical perks too, like no daily commute or office politics.
Intrigued by nomadic freedom? I'm sharing the biggest benefits I've experienced as a digital nomad.
This lifestyle isn't for everyone, but if you crave autonomy and adventure, it could be for you.
Keep reading for an honest look at why I chose this path and how it has enriched my work and life.
You may just be inspired to take the remote work leap!
KEY TAKEAWAY
What are the benefits of being a digital nomad?
The benefits of being a digital nomad include the freedom to work from anywhere (1), the flexibility to create your own schedule, and the opportunity to explore new places while earning a living remotely.
It offers a unique work-life balance and the chance to embrace a location-independent lifestyle.
Embracing Freedom and Flexibility
One of the biggest perks of being a digital nomad is embracing freedom and flexibility.
When your job isn't tied to a particular place, you can work wherever you want!
I love having flexibility in my daily schedule.
No more rushed morning commutes or sitting at a desk from 9-5.
As a nomad, I decide when I'm most productive and structure my days accordingly.
Some days I sleep in and work late.
Other times, I take the afternoon off to go hiking or hit up a cafe.
The freedom to travel anywhere also can't be beat.
I can pack up my laptop and work from tropical beaches in Thailand one month then check out Europe's historic cities the next.
Spontaneous weekend trips are easy too.
This freedom and flexibility is amazing!
Remote Work Anytime, Anywhere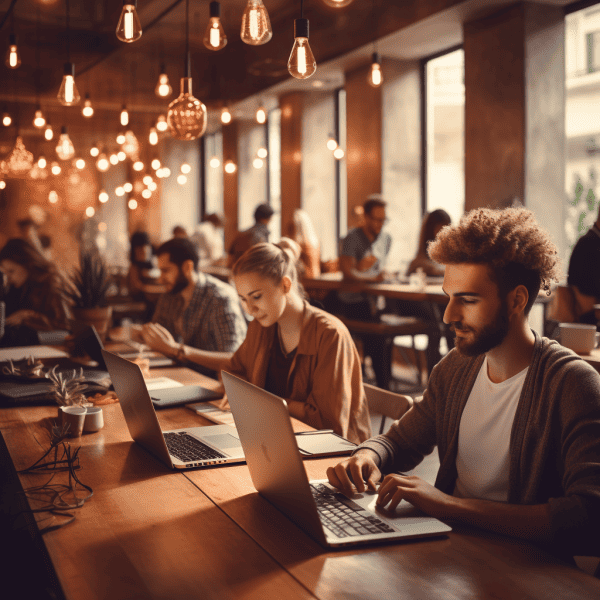 With remote work, I have the freedom to choose my office for the day – whether that's a beachside cabana or a cozy cafe.
As long as I have my laptop and internet connection, I'm good to go.
I've worked from some amazing and unique spots as a digital nomad.
Treehouse lodges in the Costa Rican rainforest, sleek coworking spaces in Singapore, park benches in Edinburgh.
Location independence is a game changer!
The ability to work anytime is also great.
I work best early mornings before it gets busy.
With asynchronous remote work, I can start at 6 a.m.
and finish by early afternoon.
That leaves daylight for play and adventure!
Personal and Professional Growth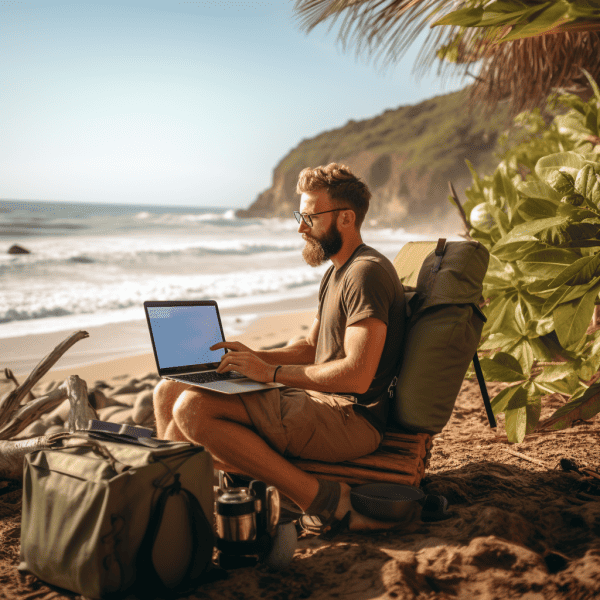 Being a digital nomad has accelerated both my personal and professional growth exponentially. (2)
Without a traditional office limiting my opportunities, I can challenge myself and develop new skills constantly.
Professionally, I've been able to take on leadership roles and projects that would have taken years to access at a desk job.
The diversity of people I meet and clients I work with as a nomad sparks innovation too.
My career has skyrocketed over the past few years thanks to this expanded perspective.
Personally, I've become much more independent, adaptable and open-minded.
Managing logistics across multiple countries forced me to problem solve.
Immersing in new cultures expanded my worldview.
I dealt with situations I never would have at home.
This builds resilience!
Cultural Exploration and Enrichment
One of the greatest joys of location independence is diving deep into new cultures and lifestyles.
As a nomad, I get to live local – not just visit as a tourist.
Understanding cultural nuances takes time.
After 3 months in Mexico, I observed the importance of family and taking time to socialize.
In Japan, I learned about respect for elders and tradition.
These insights create empathy and global citizenship.
Exploring historic sites, natural wonders, and talking to locals never gets old! I've sampled exotic cuisine, studied regional art, picked up new languages.
My cultural enrichment as a digital nomad is invaluable.
What a fulfilling way to work and live!
Building Diverse Social Connections
As a digital nomad, I've built a fulfillling social network across the globe.
Attending local meetups and coworking spaces allowed me to connect with fellow nomads.
These mobile creatives inspire me daily!
I also befriend locals who provide insider tips on the best hidden gems.
My Thai friends took me to the tastiest street food stalls off the tourist trail.
And I joined a Mexican family for a raucous Dia de Los Muertos celebration.
These social connections enable experiences I couldn't have alone.
I learn so much from people with diverse backgrounds and customs.
We exchange ideas on work, hobbies, and life priorities.
My world is richer thanks to these global friendships!
Cost-Effective Lifestyle
A huge financial benefit of nomadic living is getting more bang for your buck.
By basing myself in cheaper destinations, my housing costs are slashed.
Simple but cozy apartments in Colombia or Bali are hundreds less than my old place back home.
Factor in lower costs for dining, entertainment, healthcare, and more.
I live comfortably but save way more as a nomad even with travel costs.
And companies are getting wise – some even offer financial bonuses for remote workers based abroad to offset taxes.
Of course costs depend on your lifestyle and choices.
But with savvy planning, the digital nomad life can be very cost effective.
The savings mean more freedom to pursue dreams – be it a bigger nest egg, launching a business, or early retirement.
If you want more digital nomad preparation tips, then you can check out the article.
Pursuing New Hobbies and Passions
Without the routines and obligations of a stationary life, I've had more time and motivation to pursue hobbies and passions as a digital nomad.
Surfing warm waves in Sri Lanka, bargaining at open air markets in Morocco, stargazing in the Chilean desert.
Bliss!
Location independence lets you live somewhere that enables your interests.
An avid kitesurfer based in Tarifa, Spain has constant wind.
A wildlife photographer in the Serengeti is front-row for the great migration.
Follow your bliss!
Trying new things also expands your horizons.
I took up salsa dancing in Medellin, volleyball at a Bali beach club, cooking classes in Chiang Mai.
Discovering hidden talents has been incredibly fulfilling.
Overcoming Challenges and Striking a Balance
While the digital nomad lifestyle has many benefits, it also comes with unique challenges.
Solitude, technology hassles, visa constraints, healthcare access, burnout potential – it's not always glamorous!
A support system is key to overcoming hurdles.
I joined online communities of nomads who share tips and camaraderie.
Striking a healthy life balance takes mindfulness too.
I pace myself, take tech breaks, and don't overwork just because I can.
The perks outweigh the pitfalls with careful planning.
This lifestyle is amazing if managed right!
Conclusion
As you can see, the digital nomad lifestyle offers some incredible benefits if you're able to work remotely.
I certainly don't regret taking the plunge! Of course, it's not perfect – nothing is.
But for me, the pros far outweigh the cons.
If you want to know how much money digital nomad is making, then I recommend you to check out the article about digital nomad lifestyle income.
I hope sharing my story gives you useful insights if you've been considering going nomad.
Feel free to reach out with any other questions.
And let me know what excites you most about the potential of being location independent! There are so many upsides – from career growth to deeper cultural immersion.
The world is waiting for you to explore.
If you can't wait to start digital nomad lifestyle, I recommend you to take the time on reading the article about digital nomad prep.
References
https://nomadentrepreneur.io/become-digital-nomad/
https://andysto.com/how-to-do-professional-development-as-a-digital-nomad/
Related Articles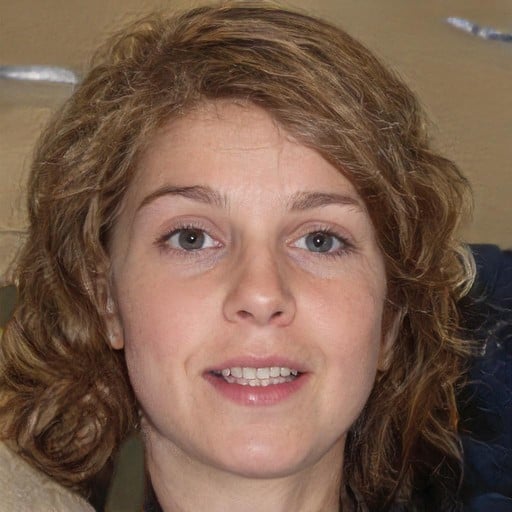 Stephanie Ansel is a well-known writer and journalist known for her unique and captivating writing style. She has written many articles and books on important topics such as the lifestyle, environment, hobbies, and technology and has been published in some of the biggest newspapers and magazines. Stephanie is also a friendly and approachable person who loves to talk to people and learn about their stories. Her writing is easy to read and understand, filled with lots of details and information, and is perfect for both kids and adults who want to learn about important topics in an interesting way.